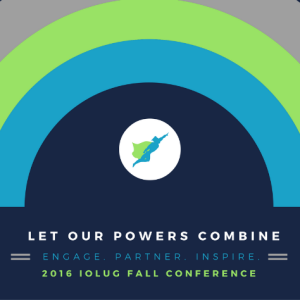 Let Our Powers Combine: Engage. Partner. Inspire
Friday, October 21, 2016
Indiana Wesleyan University North Campus
3777 Priority Way, Indianapolis, IN  46240
Cost is $40 for members, and $65 for non-members.
Program at a Glance
9:00am – Registration & Continental Breakfast
9:30am – Welcome and Business Meeting
10:05am – KEYNOTE #1 –  Willie Miller, IUPUI University Library
Willie Miller has made a career out of bending the normal rules in efforts to improve library services, strengthen user relations, and support student success. Library Journal calls him a guerilla. In this session, a guerilla librarian shares his thoughts on assessment, systems thinking, and how moments of friction can help libraries to engage, partner, and inspire.
11:05am – Breakout sessions
Building Partnerships that Demonstrate the Library's Value | Lisa Jarrell, Ball State University Libraries
Addressing the Legal Information Needs of Immigrants | Kathy Ladell, Northern Illinois Institute
11:50pm – Lunch & Networking
12:30pm – KEYNOTE #2 – Beth Boatright, IPFW University Library
1:30pm – Breakout Sessions
A matter of balance: Learning analytics, the academic library, and ethical quandaries | Kyle Jones, IUPUI
Supporting Dementia caregivers through embedded librarianship, technology, and relationship building | JJ Pionke, University of Illinois at Urbana-Champaign
2:25pm – Breakout Sessions
Equality through Transparency: Collaboration between Academic Libraries and Faculty to Improve Student Success in a Diverse Population| Maya Hobscheid, Nevada State College
Digital Collections Panel

Bringing Special Collections to Life: Open-Source Tools for Digital Exhibit Creation | Andrew Welp, Butler University
Building Institute and Library Value through Digital Collections | Bernadette Ewen & Ryan Weir, Rose-Hulman Institute of Technology
3:10pm – Door Prizes!