From time to time we like to highlight our IOLUG Board members, today we turn our spotlight to our President Angie (Thorpe) Pusnik: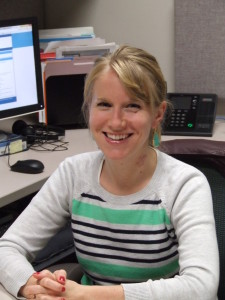 Angie (Thorpe) Pusnik is the 2017-2018 IOLUG President. She currently serves as Associate Librarian, Digital User Experience Librarian, at Indiana University Kokomo. In this position, she oversees the library's electronic resources collection, manages the library website, and provides research help at the reference desk. She has led and participated in research on user behavior in discovery services, emerging collection acquisition methods, and the impact of library service usage on student outcomes. She is a proud alumna of the University of Wisconsin-Madison, Indiana University Bloomington, and the Institute for Research Design in Librarianship (IRDL).
Angie been involved with IOLUG since 2011. She first served on the Program Committee and then joined the Board of Directors as Secretary in 2012. She served two terms in this role before becoming President-elect in 2016. She looks forward to leading IOLUG during its 35th year because it is a great time to both reflect on how well IOLUG has served librarians and the information community over the past few decades, as well as develop plans to ensure IOLUG continues to fulfill its mission into the future. She is particularly excited to unveil IOLUG's new logo, celebrate the organization's 35th anniversary at a new venue this October, and work with the IOLUG board and members to create and widely promote membership benefits over the course of this year.